Denis Fetisson began his career at the age of 14 in the bakery trade. It was in the restaurant of hid starred-chef godfather Paul Bajade - Les chênes Verts in Tourtour - that he first discovered his passion for the kitchen skills he would learn at the side of this venerated chef patron.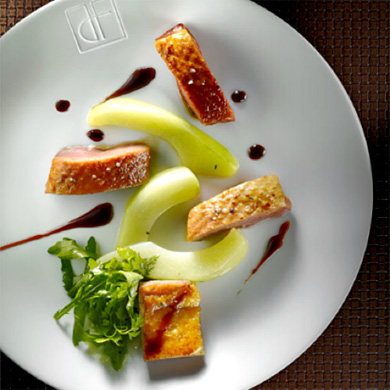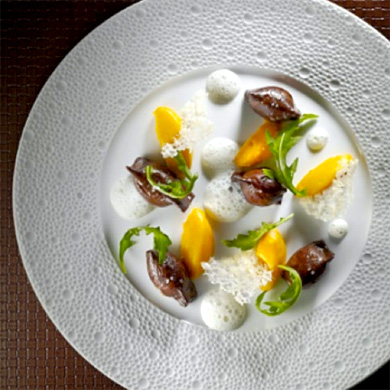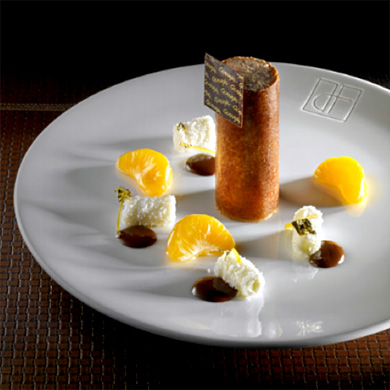 Having qualified, the future proved aqually exciting, as Denis joined the Belle Otero in Cannes with Francis Chauveau (2 Michelin stars)... a chef never satisfied with anything short of perfection. Roger Vergé, (3 Michelin stars) at Le Moulin de Mougins prived as generous as his huge reputation suggests.
The time spent with the Jacob family ( 2 stars) at Le Bateau Ivre in Courchevel, and with the Gleize Family (1 star) at La Bonne Etape, introduced him to the heart and soul of Relais et Châteaux. Time spent with Nico Ladenis at Chez Nico, the 3 starred chef's restaurant in London's Park Lane, taught him attention to detail and the importance of organization. After that, his travels took him morocco, Norway and the Camino Réal Mexico City.
The essential skills learned in these famous hotels and restaurants are all part of the personal style established and developed by Denis today. His central belief is: « Yes to local values and produce and yes to appearance where it serves flavour », without of course, forgetting the virtues of minute attention to detail. He became the Chef at the Relais Châteaux Le Daniel in the 8th arrondissement of Paris, where he was awarded the Prix Jacquart for « Best Young Chef in French Cuisine », sponsored by Yannick Alleno. From there, Denis moved to the Cheval Blanc in Courchevel to work alongside the 3 starred chef, and after two seasons of unremitting hard work, was awarded his own two Michelin stars in 2010.
For the fine dinners of the Cannes Region, the big event of spring 2010 was undoubtedly the much - awaited reopening of the most legendary restaurant in the village of Mougins: L'Amandier, the mecca of Cuisine Niçoise and the unmissable venue for celebrities visiting the Côte d'Azur.
The element of surprise could hardly be greater, because it is now the inspirational Denis Fetisson who leads and coordinates the restaurant on his return to the country after his gloriously star-studded career elsewhere.
In july, he opened his own restaurant « La Place de Mougins » with his wife Muriel and a full team. His is a consciously and determinedly family business. Denis Fetisson offers his diners the most creative cuisine du marché built around fresh market produce.